"Construing psychotherapy" book series
Book series edited by the Institute of Constructivist Psychology, directed by Massimo Giliberto, Andrea Leonardi and Francesco Velicogna
It is with great pleasure that I present this first contribution to the new series of constructivist psychology and psychotheraphypublished by Libri Liberi .
The papers enclosed in this work are the result of some prestigious international researchers' studies in the field of Constructivist Psychology presented at the XVIIIth International Congress of Psychology of Personal Costructs. The Franceschi Foundation, a non-profit organization, have been founded with the intention of actively supporting scientific progress and operational activities in the field of psychology through a concrete contribution to pubblications of noteworthy relevance. The studies presented in this book are an important contribution to the advancement of knowledge in the field of psychological research.
I am therefore convinced taht this work goes in the direction that we all want, taht is a greater understanding of the processes that underlie human existence and the aims it wants to achieve.
Leopoldo Franceshi
President of the Franceschi Foundation Onlus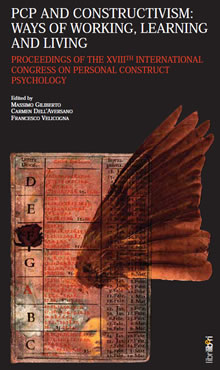 PCP and Contructivism: ways of working, learning and living.
Edited by Massimo Giliberto, Carmen Dell'Aversano, Francesco Velicogna
Ed. Libri Liberi
Click here to buy it
Back cover
The principles which guided us in the organization of the conference also supported us in the editorial choices for this book of proceedings: we have chosen to follow a principle of inclusion instead of a principle of exclusion, even if we knew in advance that this would create some additional difficulties, which would compound our personal, human struggles during this work. This has impacted the choices related to the selection of the material, the editorial criteria for language use and the structure of the book. The congress had a large attendance. Many colleagues from all over the world presented their papers, some from countries where we had no idea that PCP was being practiced. The atmosphere was vibrant, also because Venice, and San Servolo island, are magical. As the conference venue we had selected an island which used to be a psychiatric hospital, a place of suffering and exclusion, precisely to celebrate a theory of participation and inclusion, a very humanistic theory in way. Later, when we were working on editing the volume which would embody the memory of this event, we realized that, with the exception of a few extreme cases – we should be as inclusive as possible, as encouraging as the credulous attitude would allow. Our aim was not to produce a book of selected papers from Venice, but a panorama of what people are producing, using constructivism and PCP, around the world.